Whether you are doing it for charity or yourself, going dry for July is always a good cause. Our very own Australian craft brewers have really stepped up the game in the non-alcoholic beer market with extensive research and out of the box flavours flavours so you can go dry and not sacrifice the taste.
Dry July Foundation
Dry July was created by the Dry July Foundation in July of 2008 to help those with cancer. The foundation was founded when Brett, Kenny, and Phil, wanted to take a break from alcohol and so decided to raise money to keep them focused. They were such a success that during their first year of Dry July, they raised $250,000! The funds go towards improving information and support services, specialist cancer nurses, wellness programs, cancer centre improvements, accommodation and transport, and comfort and support items. Some of the many organisations supported are Bowel Cancer Australia, Cancer Council, Leukaemia Foundation, and the McGrath Foundation. To this date 290,000 Aussies have raised over $73 million for over 80 cancer organisations across Australia.
What your money goes towards
Information and Support Services
This goes towards promoting the early warning signs and symptoms of cancer, grow the cancer nursing program and provide increased psychological training in order to support those suffering.
Specialist Cancer Nurses
The money raised will help fund specialist cancer nurse programs, this is so the cancer patients can have the best care to go through such a tough time. Cancer nurses not only complete their day to day medical tasks, but they also go the extra mile in order to provide support and develop relationships with patients.
Wellness Programs
Here the money goes towards physiotherapy and gym maintenance programs. These are important to keep not just the body active but also the brain. Programs like this develop mini communities providing support to each other going through the same process.
Cancer Centre Improvements
The cancer centres benefit from the fundraising and enable them to provide equipment such as sleeper chairs, recliners, post op nurture packages, tilting wheelchairs and even a portable sound studio in order to develop the therapeutic song writing program.
Accommodation and Transport
Money raised for this particular area will go into transport for patients who are unable to get themselves to clinics/hospitals for treatment. The accommodation side of things means that those in rural areas can live closer to the hospital in case they need urgent care as well as eliminating the hours of travel to get to a specialised cancer clinic.
Comfort and Support Items
These are items such as Christmas decorations, flowers, chemotherapy treatment chairs, Wi-Fi monitors, and even games consoles such as Wii and Xbox.
You can learn more about who DryJuly support through the fundraising event and the individual stories of those who will benefit from your support here.
Sobah
Sobah is an amazing proudly Aboriginal owned and led non-alcoholic craft beer company right here in Australia. The brand's focus is to release the stigma of socialising sober and the views against non-alcoholic beer. They're craft beer comes in amazing flavours including Lemon Aspen, Finger Lime, Pepperberry and Wattleseed.
Pepperberry IPA
Finger Lime Cerveza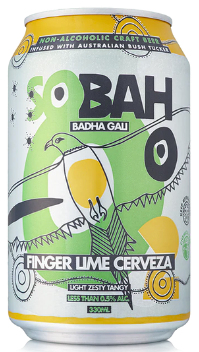 Lemon Aspen Pilsner
Wattleseed Gold
Not only are their products unique due to the fact their craft beer is chemical and preservative free! They also don't put the beer through any additional processes in order to remove the alcohol.
Found out more about the Sobah mission and/or order some of their amazing beer here.
Popular non-alcoholic craft beers you should try
Bridge Road Brewers
Free Time – Pale Ale
Big Shed Brewing Co
Desi Driver – Pale Ale
Hop Nation Brewers
Mind Your Head – XPA
Molly Rose Brewing
Strawberry Sublime – Gose
Health Benefits
Cutting out alcohol for a month may seem hard but it will be amazing for your health. Say you drink 5 beers a week, over the Dry July month you will save 2,780 calories and $160! For a glass of wine each night you would save 3,080 calories and $224. So you aren't just benefitting your body, you are also helping out your wallet. There are many other benefits to giving up alcohol, let me explain.
Mental Health
Alcohol is a known depressant that can seriously affect your mental stability, this is why aggression is so common when people are out drinking. Giving up alcohol for a month will allow your brain to level out and give you more clarity.
Being hungover with your head down a toilet also isn't the best way to spend the next day, as it can negatively impact both your mental or physical health.
Hydration
We all know the 'breaking the seal' fiasco when drinking alcohol, this is due to alcohol being a diuretic. This constant release of fluids causes your body to become dehydrated which in turn, effects your concentration and energy. Your body needs to be sufficiently hydrated in order to perform its daily tasks.
Weight Loss
As mentioned above, alcohol contains a lot of calories. The one glass of wine here or there isn't something you need to worry about, however, having a glass a night can significantly add up over the week. By eliminating alcohol for the month (as long as these calories are not replaced with chocolate or biscuits), you will see a difference on the scale. To add to this benefit, instead of spending your Saturday or Sunday morning throwing up you could replace it with a gym class and give a boost to the weight loss process.
Bank Account
In the previous article (and above) I outlined just how much money is spend on alcohol per week in Australia, a whopping $25 per person. Just think if you stopped going out for 4 weekends how much money would you save, about $150 a week if you are going out to the clubs. Over one month that is $600!
So in summary, join me, and go dry this July, not only will you raise funds for a the Dry July Foundation and impact millions who are suffering from cancer, but also help your bank account and improve your overall health.